Last Minute Christmas Shopping in Fort Wayne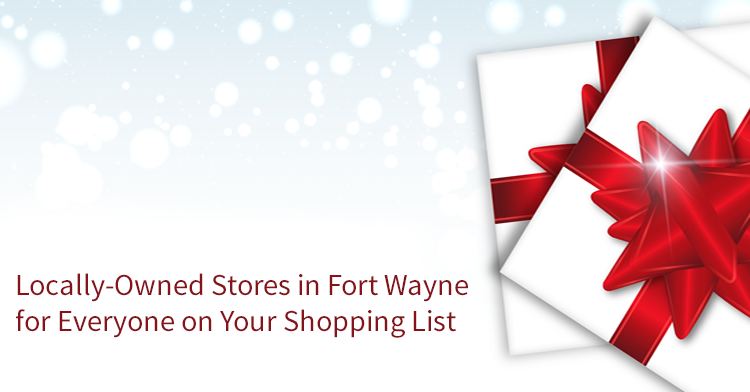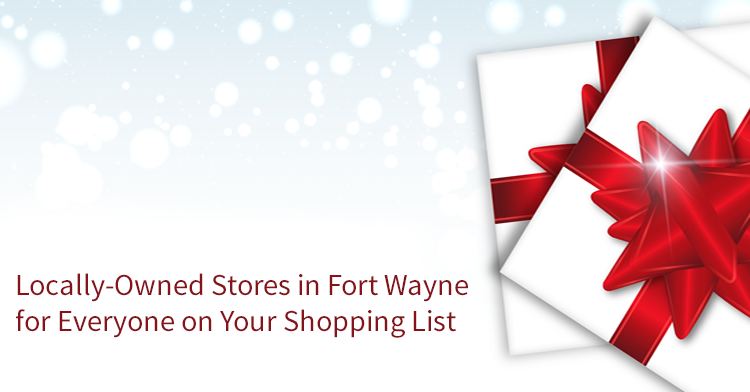 Last-Minute Local: Shop Locally-Owned Stores in Fort Wayne
There's only 10 more days left until Christmas and if you haven't started your Christmas shopping yet don't panic! Fort Wayne has some great locally-owned shops with a wide variety of items for everyone on your Christmas Shopping list.
Budget-Friendly
Darlington Farms
Darlington Farms typically has over 2 million items for sale at just $1.69 each including books, toys, frames, home decor, makeup, jewelry, stationary, candles, hats, gloves, licensed sports items, pet toys, kitchen accessories and more.
Address: 3925 Airport Expy or 615 W Coliseum Blvd.
---
Unique Gifts
City Exchange
The City Exchange shops in downtown Fort Wayne feature an eclectic array of shops that are sure to satisfy everyone on your shopping list-including yourself! Shop Poptique, Fiddlewinks, Around the Corner, Belyst, Juice Jar, Valontine, David Talbot Collection for everything from gourmet popcorn and fresh-pressed juices to clothing, home decor, and vintage items.
Address: 127 W. Wayne Street
Creative Women of the World
Located next to the City Exchange Shops, Creative Women of the World sells unique artisan gifts including jewlery, purses, clothing, home decor, stationary, bath & body, coffee, accessories and and items that are made by hand from women across the world to help them create sustainable business to rise out of poverty and slavery.
Address: 125 W. Wayne St.
Fancy & Staples
Fancy & Staples is a new "uncommon goods" boutique in Fort Wayne carrying unique home accessories, gift items, paper products, clothing, accessories, apothecary, barware, and pantry items. Many of the items you'll find at Fancy & Staple are from handmade crafters/makers, small indie lines, local artisans, and other obscure brands.
Address: 1111 Broadway
Emiley's Haute Cottage
Shop Emiley's Haute Cottage for unique home decor, furnishings, candles, jewelry, antiques, bath items and more.
Address: 515 W. Wayne Street
---
Outdoorsy
Earth Adventures Unlimited
Looking for the perfect gift for the outdoorsy person on your shopping list? Earth Adventures Unlimited sells camping, climbing, paddling, backpacking, and scuba diving equipment and clothing for the novice and experienced.
Address: 1804 W. Main St.
Fort Wayne Outfitters & Bike Depot
From bikes to kayaks, to apparel, and more Fort Wayne Outfitters is the place to go for adventure.
Address: 1004 Cass Street
---
Foodie
Cookie Cottage
Everyone on your list will love locally-made gourmet cookie gifts from the Cookie Cottage. Choose from an assortment of fresh made cookies including personalized cookies, cookie cakes, iced cookies and more!
Address: 508 Noble Drive
Debrand
DeBrand Fine Chocolates is a gourmet chocolatier featuring boxed chocolates, specialty artisan chocolates, chocolate truffles, chocolate art boxes, and more, made right here in Fort Wayne.
---
Wine Lovers
Just outside of Fort Wayne to the West and the North are two wineries, each with a selection of locally-made wines from locally-grown grapes. Sample some of their wines and pick up a bottle or two for the wine lover on your list.
Two EE's Winery
Address: 6808 US-24, Huntington, IN
Country Heritage Winery
Address: 185 Co Rd 68, Laotto, IN
Address: 4110 W Jefferson Blvd or 5608 Coldwater Rd
---
Pet Lover
Pink Poodle
The Pink Poodle offers a wide range of supplies for both dogs and cats – everything from feeder bowls and waste supplies to high-fashion pet clothing, collars, dog beds, toys, treats, and more.
Address: 6244 W. Jefferson
Petshion Boutique
Need the perfect gift for you pooch? Petshion Boutique in Jefferson Pointe has everything for the discerning pet including clothes, treats, carries, and more.
Address: 4150 Jefferson Blvd