How to Prepare your Apartment for Winter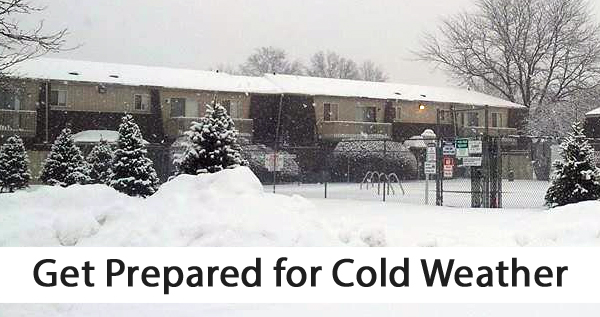 Preparing your Apartment for the Colder Months ahead!

The cold and blustery months have made their entrance in Fort Wayne. Now is a good time to think about what to do to keep yourself safe, comfortable, cozy, entertained and healthy over the long winter months ahead. We've made you a handy check list of things you might need in order to prepare yourself to be spending more time in your Willow Creek Crossing Apartment.
Essentials
Before winter "disasters" hit, it's a good time to stock up your space with some essentials. For example:
snow brush and ice scraper for your car
snow shovel and ice melt
flashlight and batteries (and candles and matches, too) in case you lose power
cold medicine and pain relievers
Clothing
Pack away warm-weather clothes and go through your winter gear to make sure you have what you need:
warm, waterproof boots
gloves and/or mittens (complete sets!)
hat or earmuffs and scarf
a warm coat
Your Space
Time to cozy up your living space:
switch out bedding for flannel sheets and extra warm blankets
add a blanket to the couch
bring out some candles to make the room seem warmer
add extra lighting for the long dark days
Entertainment
As the colder months approach, be prepared to spend a lot more time indoors! Along with the essentials, you will need some way to keep yourself entertained, in order to keep your sanity! Here are some things to do for entertainment in your apartment when it's too cold to go outside.
Turn your Bedroom into a fort
Play your favorite board/card game
Learn an instrument (a quiet one– your neighbors will thank you!)
Here is a list of the greatest movies streaming on Netflix right now.
Books are still around too! Stock up at the library, or if you prefer to read on your iPad, download the free iBooks app.  Check out the "Free" category for ever-changing Free downloads of classic books!
Health
It's too easy to let your health slip as you either stay holed up in your apartment or spend your days surrounded by germs.
Keep healthy vitamin-rich foods on hand (like fresh oranges, and frozen spinach or broccoli)
Add a multi-vitamin or some Vitamin C or D to your AM routine
Check out youtube, Netflix or your local library for workout videos — don't let the cold weather be an excuse for not keeping fit
Hopefully, these ideas can help you better prepare yourself for the colder months ahead, as you prepare to spend some more time indoors.