6 Tips to Keep You and Your Apartment Warm during Indiana Winters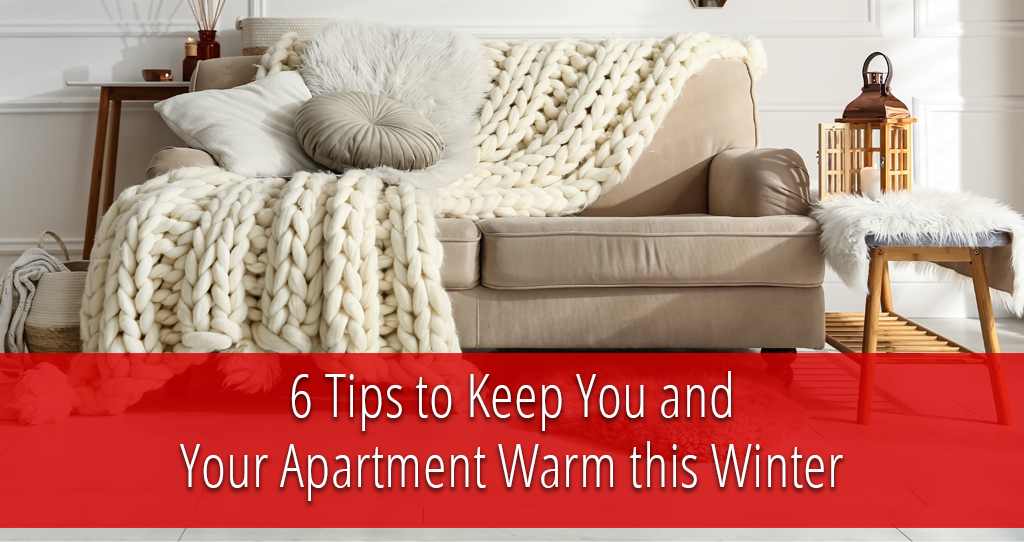 Baby, it's cold outside! Winter is still officially a month away but the frigid cold temps have already arrived. How are you planning on keeping yourself and your apartment warm this winter?  Learn how to stay warm and cozy in your apartment this winter without cranking up the heat.
1. Reverse Your Ceiling Fan
Did you know that reversing the motion of our ceiling fan can help keep you warm? Running your ceiling fan counterclockwise in the summer creates cooler air. We all know that warm air rises, so in the winter, running your ceiling fans clockwise will force the warm air downward and circulate it throughout your apartment.
2. Blockout the Cold
Thermal blackout curtains are a great way to help darken rooms but did you know that they're also a great way to keep the cold out? Thermal curtains help insulate your windows blocking drafts and keeping the warm air from escaping.
Bonus: they can also help reduce noise!
3. Get Moving
While winter is the perfect time to Netflix and chill, staying active will boost your circulation and help keep you warm in the winter. Instead of running to the thermostat to crank up the heat when you get cold, get up and get moving! Clean up around your apartment, throw a load of laundry in, do some light exercise or yoga, and prep dinner. Before you know it, you're feeling warmer, your apartment is clean, dinner is ready, and you've gotten in your exercise for the day!
4. Let in Some Light
We mentioned using blackout curtains to insulate your windows, but be sure to open them on a sunny day to let the sun in and warm up your apartment. While letting sunlight in can make an apartment hot and stuffy during the summer, it's one of the best ways to keep it comfortable during the winter.
Natural light is also great for making your apartment look larger, so you'll be enhancing your interior design while you heat your apartment up!
5. Use Your Oven
While you shouldn't overuse your oven or keep it on when you're not cooking, using it more often will keep your apartment warmer.
Winter is the perfect time for casseroles, roasts, and baked goods. Make more oven-baked meals and stay cozy in your apartment.
6. Throw on More Blankets
Blankets are a cozy way to snuggle up in the winter. Add thicker blankets to your bed (don't forget the flannel sheets too!) and add some heavy throws on your sofa and chairs. They'll add warmth and style to your apartment!
Keep Warm During Indiana Winters With These Tips
These tips will help you stay warm and cozy during the harsh Indiana winters. Turn your heater down and take advantage of some new ways to keep yourself and your apartment comfortable.
Are you looking for a new apartment? Why not try renting an apartment at Willow Creek Crossing? Contact us for more information or check out our apartments for rent today.