Swimming Pool Etiquette and Warm Weather Reminders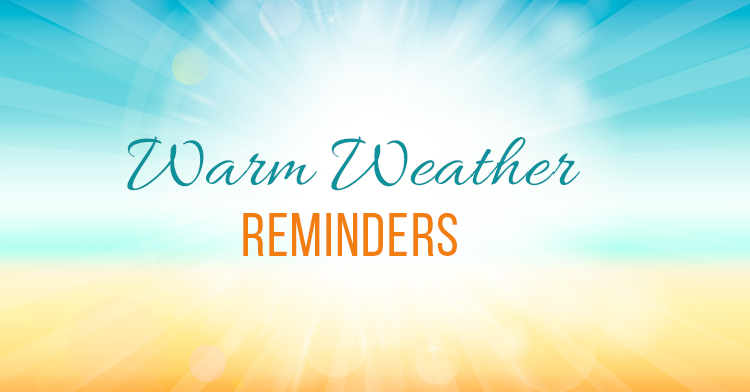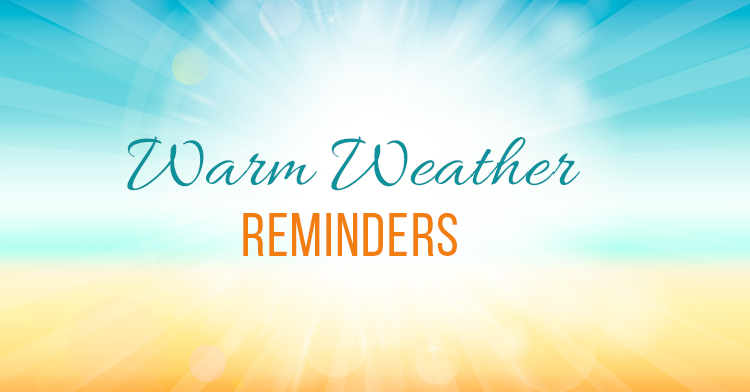 We are excited as all of you to FINALLY see the temperatures rising and lots of sunshine! As everyone spends more time outdoors and opens their windows, we would like to take a moment for some important reminders to make sure all residents enjoy their life here at Willow Creek Crossing Apartments.
Pool Rules & Etiquette
The pools open this weekend, just in time for Memorial Day weekend! We hope our residents enjoy the pools, but we would like to address some of the most commonly forgotten rules:
You must have your Willow Creek Crossing I.D. card with you, in addition to the gate code, to gain entry into the pool.
Do not give out the code to anyone outside of your household.
No street clothes of any kind will be permitted. This includes t-shirts and shorts overtop of bathing suits. (Swim shorts and swim shirts, designed for pool use are permitted.)
One guest is permitted per leaseholder.
All persons under the age of 14 must be with an adult that is at least 18 years of age.
All diaper-aged children shall use plastic pants with tight fitting elastic at the legs and waist, or wear swim diapers. Do not change diapers poolside.
Please refer to your copy of your signed addendum upon receiving it for more details on the rules and procedures for the swimming pool. If you have not yet received the gate code or signed the pool rules, please stop by the leasing office to do so.
Warm Weather Reminders
Smoking:
While we do allow our residents to smoke in their apartments and on property, we do not permit smoking in front of the buildings or inside of common hallways. If you smoke, please do so in your own apartment or your patio/balcony. Please dispose of cigarette butts properly, and do not throw them into the yard, mulch, or over the balcony.
Pets:
Please refer back to your pet lease for your responsibilities as a pet owner. All pets should be leashed and attended by their owner at all times. Tie-outs are not allowed. Please walk all pets around the back of buildings, or along the community walking trail to defecate. We expect all pet owners to pick up their pet's waste right after they are finished.
Grills:
We have charcoal grills located near each swimming pool, and plan to add more throughout the property. Please feel free to use these on a "first come, first serve" basis. We do not permit residents to have their own gas or charcoal grills, but ours are free to use.
Parking Lots:
Remember: Parking lots are to be used only for operable vehicles. Inoperable vehicles may be towed. We do not permit playing or gathering in the parking lots, nor do we permit working on your vehicle. Please refer to page 12 of your policy manual for more parking lot rules.
Noise Disturbances:
In your policy manual, we have outlined some tips and rules about being a good neighbor in our community. Please remember that we do have "quiet hours" between 11 P.M. and 8 A.M., seven days a week. Please be aware of the volume of your music while in your apartment, and in your vehicle when driving through the property.
Patios/Balconies:
We invite you to use and enjoy your patio or balcony by personalizing it with appropriate outdoor furnishings. Note the following: Patios, balconies or entryways shall not be used for the storage of personal property on either a temporary or permanent basis. Patio furniture, potted plants, porch swings, and other items of furniture or accessories of similar nature are permitted. All such furnishings shall be in good repair, neat in appearance and in safe operating condition. Consequently, items like beverage coolers, beer cases, tires, pet cages, mops and broken down furniture, as well as furniture that is designed for indoor use, are not permitted on patios, balconies or entryways.
We appreciate your cooperation and hope that you will make us Willow Creek Crossing Apartments a great place for all of our residents. If you have any questions or concerns, please contact our leasing office to discuss them.