Tips to Help you Organize your Apartment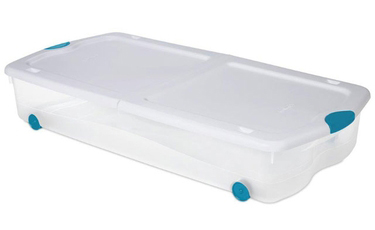 Tips for Better Organization
Who couldn't use a few new ideas for being more organized?  No matter the size of your living space, storage space is hard to come by.  Storage space can especially be rare in an apartment.  Here are some creative tips for finding more places to store your stuff!
Find "secret stashes" in your Apartment
Angle the couch or a big chair in the corner of a room and put storage boxes behind them
Put an attractive table cloth over a hall table or chair-side table cloth and store things underneath
Use flat, wheeled plastic storage bins under your bed to store things you use infrequently like extra linens or out of season clothes.
Utilize Wall Space
In the kitchen, use 3M Command Hooks on the walls to keep cooking utensils, potholders, and kitchen towels out of the drawers and within easy reach.
Clear up a lot of cabinet space by keeping large pots or infrequently used small appliances on top of cabinets or the refrigerator.
Be creative with furniture you have already:
Tall metal shelves from the garage can be repurposed for kitchen storage — holding dishes, pots and pans, cookbooks or food stored in closed canisters.
Put a tall bookcase near the front door — add hooks to the sides to hold keys, umbrellas, and jackets; put trays or bins on the shelves for storing shoes, gloves, scarves, and mail.
Use an old dresser for a TV stand — the drawers can hold remotes, DVDs, board games, and extra blankets or pillows.
Make what you have work better:
Place stacking shelves inside cupboards and cabinets to get more out of their open spaces
Shoe storage racks are handy over any door.  Throw them over the bathroom door in order to store bathroom essentials, such as your hairbrush, toothpaste, etc.  Or put one over your bedroom door to store other knick-knacks.
The key to staying ahead of the accumulation of too much stuff is to regularly do as most professional organizers recommend: take a good, hard look at your belongings and keep only the things you really love or really use.
At Willow Creek Crossing Apartments in Fort Wayne, we love to make our residents feel right at home. We hope this handy guide helps you to make the most out of your space!