A Movie Called, "The Apartment"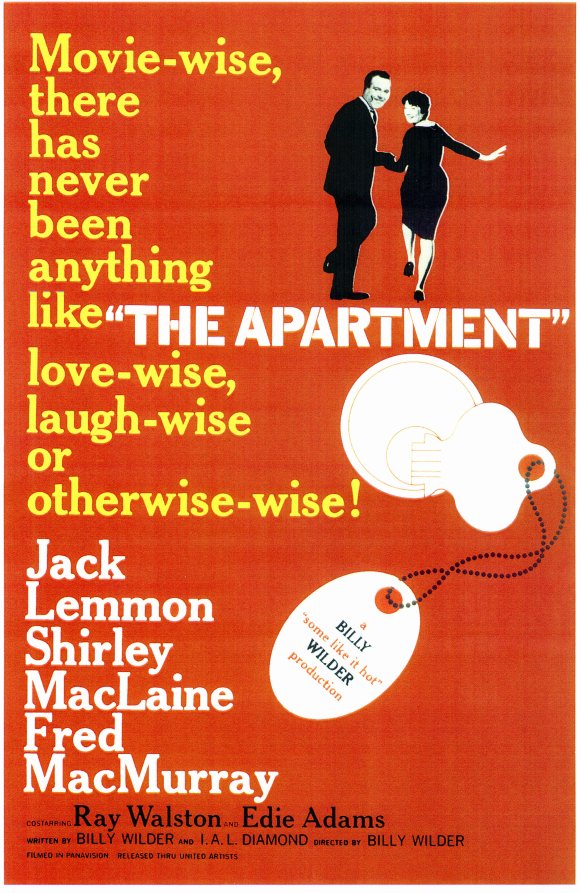 Did you ever come across a movie called "The Apartment?"  No, it's not a horror movie about missing your rent payment, or dealing with a less than ideal room mate.  In fact, for a movie called, The Apartment, it's really not much about apartment living at all.
According to IMBd, the movie website, "The Apartment is about  a man who tries to rise in his company by letting its executives use his apartment for trysts, but complications and a romance of his own ensue."  The best part about this black and white movie from the 1960's is the outstanding acting from Jack Lemmon, Shirley McLain, and Fred MacMurray.  You'll be startled by Fred MacMurray's role if all you ever saw him in was "My Three Sons."  Fred played a lot of real nasty low lifes in his movie days.
The Apartment won't give you any insight into why your room mate acts the way he does, but it is a pretty good film.  Not really a movie for the kids, though there is no nudity or bad language.
Watch The Apartment in your apartment for yourself on Saturday afternoon, November 17 at 1:30pm on Turner Classic Movies, or TCM.  Comcast cable channel 26.  Frontier Fios Cable Channel 230.  And on Dish on channel 132.  And, if what you really want to see is a movie about an apartment you can rent, check out the video tour at Willow Creek Crossing Apartments.