Decorating Your apartment for Halloween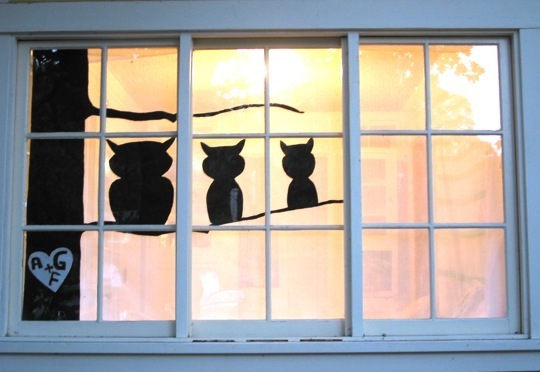 Haloween is always a fun time at Willow Creek Crossing Apartments.  But, decorating your apartment can be a Trick or Treat" situation.  It's a "treat" when it looks spooky and helps make your holiday more fun.  But it can be a "trick" if your decorations wind up damaging your apartment and you lose part of your security deposit.   Here are a few ideas that shoulde be all "treats."
First, focus on window treatments. Replace curtains with inexpensive black, grey or white netting from the fabric shop. You do not need to sew or iron for this decorating tip. If you want a full curtain effect measure the windows from the curtain rod down to the floor and add 1 inch to that number. Then measure the window width, outside edge to outside edge and add 2 inches to that number. Most netting is sold in 45 inch widths. Divide the width by 45 and this is how many "panels" you will need. Each panel will be as long as the length you measured earlier (the first measurement). To determine how much netting you will need, multiply the number of panels by the length. This will give you the total inches needed. Then divide this number by 36. That's the yardage of 45 inch width fabric needed for your project. Cut the panels into the correct length and drape them over the curtain rod. Add some plastic spiders and small skeletons to the netting for a spooky effect. Get inexpensive clothespins and glue plastic spiders and bugs to them and use them to attach the netting to the curtain rods. This Halloween decorating tip for apartment dwellers will show both inside and on the outside of the unit.
Holiday window clings are great, too.  They add suspense, but don't create any damage to walls or windows.
Next, add a decorative Haloween lamp to your window display.  A string of orange lights is ok, but discount and holiday stores now sell spooky lamps that decorate both the inside and outside of your apartment.
Next, change out your entrance mat so that you have one that is a Halloween entrance mat. Some mats have a pressure sensitive switch that plays scary music or ghoulish sounds when you step on it. These are inexpensive and fun. They also let you know when someone is at your door.  Use cotton as spider webbing in the entrance area. All you need is a roll of cotton from the pharmacy or first aid section. You do not need to spend a fortune at the Halloween store for this decorating tip. Add plastic bugs from the dollar store and you are set.
What ideas do you have are fun but apartment friendly?