Hosting Thanksgiving Dinner in your Apartment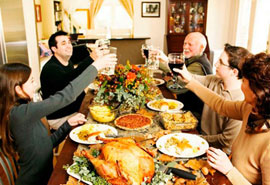 Your apartment probably provides you with enough room for comfortable day to day living.  But, is it big enough for you to invite the entire family over for Thanksgiving Dinner?  Absolutely!  As long you you do a little advance planning.
1.  Make it a buffet.  The most obvious problem is the size of your dining room table.  Spacious enough for four, but what about eight or more?  With a buffet, people can load up on food at your table, then find a comfortable spot elsewhere to enjoy eating it.  You can also set up or create serving tables to allow some family members to still sit at the main table.
2.  Make it a Pot Luck buffet. Even in a house, your kitchen and stove sizes are limited, so if you don't have enough room to make all the dishes, ask guests to prepare and bring with them some of the side dishes.  This is especially good if you happen to know that one of your guests makes, for example, a terrific potato dish, while another guest knows how to do fantastic things with cranberries (as if that's possible.)  You then have plenty of room to spread out and concentrate on the main course.
3.  Create more room.  If you do the buffet, do some planning ahead of time to re-deploy your furnishings to make things more comfortable for your guests.  Moving furniture back toward the walls can create a lot more space in your living room.  Do this before everyone show up.  Don't be afraid to mix and match seating, but try to avoid metal folding chairs if you can.
4.  Plan an activity.  One way to get all of those guests out of the apartment while you're preparing the meal is to literally, get them out of the apartment.   Send them off on a walk, or set up a touch football game.  This year, more department stores will be open on Thanksgiving than ever before, so send people shopping.  Even Glenbrook Mall is open 10am to 9pm, though Jefferson Pointe is closed.
5.  Plan an After dinner activity.  If you're apartment won't hold all the gang comfortably, take the party outside.  Go for a walk, or go to a sports bar where everyone can sit and even enjoy the Lions-Packers football game Thursday afternoon.
The main thing is,  plan ahead.  Start getting ready a day or two ahead of time, and enlist the help of your guests, especially any houseguests you have for the holiday.   With a little preparation and flexibility, any space can be big enough for a great family feast like Thanksgiving.
And while we're at it, Willow Creek Crossing Apartments is thankful for the hundreds of people who made Willow Creek their home this year.  You will all be in our thoughts and prayers this Thanksgiving holiday.