This Valentine's Day, Fall in Love with Your Apartment (Again)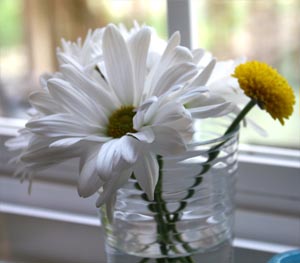 Valentine's Day ushers in the season of love. How about rekindling some romance with your living space. Here are five ideas that can help you love your apartment.
1. invest in some house plants that can add color and fragrance to your apartment. They also add some responsibility to remember to water them, and to have someone look after them when you go on vacation. While not quite the same, artificial plant arrangements can also add warmth and color to your living space.
2. If you don't want to add a real flower or plant, how about a painting or lithograph of one, or of anything else that you find stimulating or relaxing. Nice art work in your apartment can transform your apartment, Turn off your TV for awhile and just enjoy looking at the art on your walls. As you know, the artwork itself isn't very expensive. It's the frames that cost money. Visit thrift stores and garage sales to find low cost but interesting frames.
3. Again, if you don't want to add plants and flowers, you can plug in a great scent. In fact today there are so many scents available, you can switch fragrances every week or so. Another good idea is the pay attention to the anti-scents, like that pile of laundry, the garbage or the cat box. A fresh clean fragrance can help you fall in love all over again with your living space.
4. Add lighting. Lighting can be decorative, of course, but it can also give your old place a completely new look. Bright lighting, especially during the darker winter times, can simply make your outlook on things brighter as well. Proper lighting has another design effect. If makes your rooms look larger. And who doesn't love larger rooms?
5. Now that you've added the fragrance and beauty of fresh flowers, the color and look of fine art on your walls, and brightened up your life with more lighting, it's time to sit back and enjoy your apartment. Valentines Day falls on a Monday this year, and hopefully, you'll be out celebrating with your own Valentine. But the weekend before Valentines Day would be a great time to cocoon in your apartment, and read a good book. Anyone have any suggestion?