Top 11 Things to Do Around Fort Wayne in August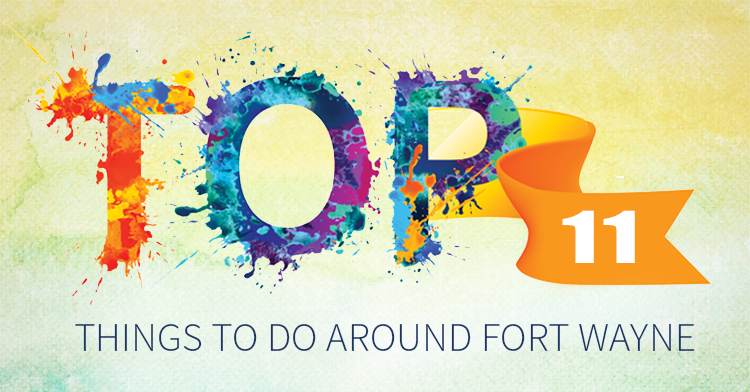 A Guide to Some of the Best Activities Around Fort Wayne in August
What an awesome summer it's shaping up to be here in Fort Wayne! If you're like us, you're probably still recovering from all of the awesome events we had in July. But don't get too comfortable, because there's still plenty of Summer and great events to enjoy! The good times never stop, and we're about to prove it to you with this handy guide to the Top 11 Things to Do Around Fort Wayne in August!
August 3: Living Fort Wayne Concert Series
The Living Fort Wayne Concert Series presents Secret Mezzanine and the Farmland Jazz Band on August 3rd at Headwaters Park. Come and blow off some midweek steam with a free concert, kids activities, pontoon rides, food from local food trucks and beer from JK O'Donnels.
August 2-9: Fort Wayne Fringe Festival
If you haven't heard of the Fort Wayne Fringe Festival, you're missing out on one of Fort Wayne's hottest new art festivals. Hosted by the Wunderkammer Art Gallery, the Fort Wayne Fringe Festival is a weeklong performance-driven festival. August 2-9, come on out and see your favorite musicians, improv groups, stand up comics; anything goes! Visit their Facebook page to see a full schedule.
August 5: Junior Achievement Wine & Beer Festival
Head down to Parkview Field on August 5th for the Junior Achievement Wine & Beer Festival to enjoy over 100 local craft beers and wines. Profits will go to provide Junior Achievement classes at little or no cost to area schools. Get your tickets online or at select Cap n' Cork locations today!
August 5-7Joseph and the Amazing Technicolor Dreamcoat
August 5-7, watch the biblical saga of Joseph and the coat of many colors come to life at the Civic Theatre. Get tickets online or at the Arts United box office.
August 6: Brew Haven
Craft beer lovers won't want to miss the Brew Haven Craft Beer Festival on Main Street in downtown New Haven on August 6th. Enjoy over 300 craft beers from more than 55 breweries including home brews.
August 7: Early Bird Nature Walk and Bike Ride
Sunday, August 7, bring the whole family out to the Wells Street Bridge for a nature walk or bike ride along the Fort Wayne Rivers. Each walk will be led by a Nature Guide from the Fort Wayne Trails Association and will be both educational AND fun!
August 9: Jim Gaffigan: "Fully Dressed" Tour
Grammy Nominated comedian/actor Jim Gaffigan will be stopping by the Allen County War Memorial Coliseum on August 9 during his "Fully Dressed" Tour. Jim Gaffigan has been seen on Comedy Central, Conan, The Tonight Show, and countless hit movies! Don't miss your chance to see this hilarious superstar!
August 11-14: Fort Wayne Tincaps vs. Bowling Green Hot Rods
Friday, August 12, don't miss the Fort Wayne Tincaps take on the Bowling Green Hot Rods! Stick around after the game for post-game fireworks! Check out the full Tincaps schedule to learn more about the awesome events they have going on including Thirsty Thursday, Country Night, Family Feast Nights and more!
August 13: Bands on the Banks
Love music and the outdoors? Then you won't want to miss the annual Bands on the Banks on the St. Mary's River bank at Fort Wayne Outfitters on August 13th. Bring a lawn chair or blanket and enjoy music from local talent including The Be Colony and Lost Lakes. You can also rent a canoe or kayak and enjoy the water.
August 26-27: Taste of the Arts
The Taste of the Arts festival is an annual celebration of the rich, diverse art community here in Fort Wayne. After last year's record-breaking attendance of 30,000 people, they have decided to turn this awesome festival into a two-day event! Join us August 26 and 27 at the Arts United Center downtown for a FREE festival of live music, art, kids activities, dancing and your favorite Fort Wayne Food Vendors.
August 27-28: Brickworld Lego Exposition
Brickworld is bringing their world amazing Lego display to Fort Wayne. August 27th and 28th, the Grand Wayne Convention Center will be taken over by 32,000 square feet of Legos. Bring the whole family out for a day of awesome interactive Lego Displays, fighting robots, Lego vendors and more!
But wait… there's more!
We may have reached #11, but there's still more great activities going on every week in Fort Wayne!
Thursdays:
Lunch on the Plaza
If you haven't taken advantage of Lunch on the Plaza, don't worry, there's still time! Every Thursday in August, from 11:30-1:30, Freimann Square is buzzing with lots of people, food trucks, live music, and fun!
Saturdays:
Rock the Plaza
Every Saturday from 6-10, join us at the Allen County Public Library Plaza for a FREE night of tunes, dancing, fun, and more! Bring a lawn chair or get ready to dance the night away. Visit their website to see a full schedule of the bands.
YLNI Farmers Market
Each Saturday from 9-1, head on down to Barr Street for Fort Wayne's largest fresh produce farmers market. Each vendor makes or grows every product being sold. There will also be live music and plenty of fun for the whole family!
Sundays:
Outdoor Yoga at Lakeside Park
Every Sunday evening from 6-7, join other yoga lovers from around Fort Wayne at Lakeside Park for an hour-long yoga session. This class is perfect for Yogis of all skill levels. Each class is $10 and meets at the Sundial near Lakeside Rose Garden.
As you can see, you won't have to go far to find some exciting things to do around Fort Wayne this month.
Did we forget any events? Let us know in the comments section below!