What to Do in Fort Wayne in October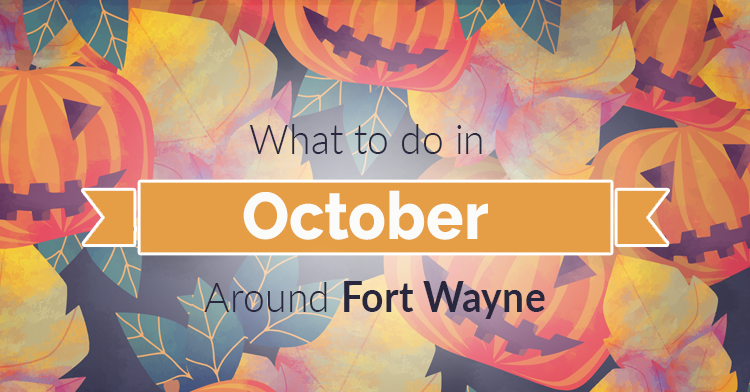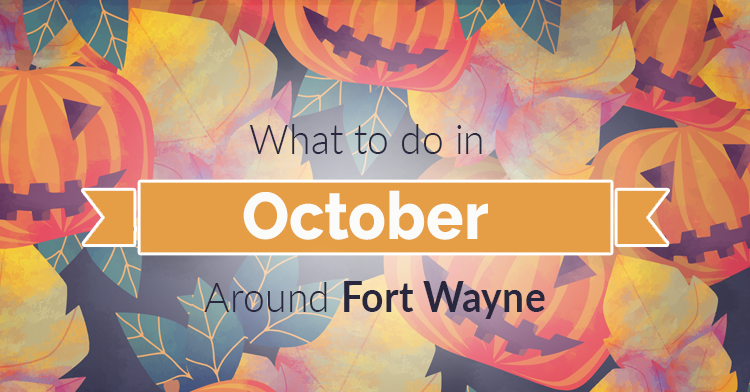 Can you believe that October is already here and we're only a couple of more months away from the end of the year? But, just because the weather is cooling down, doesn't mean that Fort Wayne is. There's still plenty of fun activities going on in and around Fort Wayne including lots of spooky and not-so-spooky Halloween fun to be had! Be sure to check out Fort Wayne's Trick or Treat hours at the end of the article!
Foodstock 2016
Grab your eatin' pants and head over to Headwater's Park on Saturday, October 8th for Foodstock 2016. Enjoy live music, a craft beer tent and some of Fort Wayne's favorite food trucks!
Lions, Tigers, & Beer
Head out to Black Pine Animal Sanctuary's on Saturday, October 8th for Lions, Tigers, and Beers. This annual adult event includes beer tasting, dinner, sanctuary tours, a silent auction, and music among the animals. Proceeds benefit Black Pine Animal Sanctuary in Albion, IN.
West Main Street Antique & Vintage Market
Browse antique's, vintage items, and repurposed crafts along west Main Street during the West Main Antique and Vintage Market on Saturday, October 15th from 9am-5pm. Plus, grab food from King Arthur's Trolly and enjoy music by Fort Wayne's Kitchen Table Players.
Growl at the Moon
The Allen County SPCA invites you to karaoke for a cause during the Growl at the Moon on October 15th at the Grand Wayne Center. Enjoy multiple food buffets, live and silent auctions, a DJ, and karaoke to benefit the ACSPCA
Fright Night
You can't think of October without thinking Halloween and Fort Wayne's annual Fright Night on Saturday, October 15th has a plethora of freaky and fun activities all over Downtown.
One of the most famous is the Zombie Walk at the Allen County Public Library Plaza, 2:00pm – 5:30pm; FREE
T.A.G. art will be onsite at the At the ACPL Plaza with their Zombie Machine to help you with your makeover. Food trucks will also be on hand as well as live entertainment. Zombies will begin their undead parade through the streets of Fort Wayne starting at 5:30.
There's also Fright Night Lantern Tours at Historic Fort Wayne from 6:00pm–10:00pm, $3.00, under 12 free
Check out the full list of activities that afternoon and evening.
WCC Pictures With Pets
Willow Creek Crossing Apartments is hosting a "Picture Your Pet Day" for all residents, their friends, and their family members to get their photos taken with their pets by a professional photographer from 4Ever Photography. The pictures will be taken outside of our Clubhouse, weather-permitting on Wednesday, October 19 from 2:30-6:30pm.
A free 4×6 print will be provided to every resident in exchange for a donation to the Fort Wayne Pet Food Pantry. You will have the opportunity to purchase more sizes from the photographer if you choose.
Halloween Pet Parade
Bring your pets out to the Fort Wayne Animal Care & Control's 7th annual Pet Parade at Franke Park on Saturday, October 22nd from 11am-2pm for a pet costume contest, parade, and family fall festival.
Family Haunted Overnight
Grab your pillow and sleeping bag and bring your 6-year or older kids to explore the eerie side of Science Central! Strange noises and occurrences have been reported for years by different employees at Science Central… could the museum be haunted? Spend the evening taking part in hands-on experiments, try to sleep among the exhibits, and then wake up to a light breakfast. It'll be a spooky good time!
Free Outdoor Movie
Join Sweet's So Geek for a free outdoor showing of Young Frankenstein starring Gene Wilder on Saturday, October 22nd from 6-10pm. Vietnummy's food truck will be there as well as photo booths and more!
Family History Month
It's Family History Month all of October at the Allen County Public Library's Genealogy Center.
"There are thirty-one days of events to inform, educate, and entertain. Don't miss events like: Tips & Strategies for Finding Relatives, Living & Dead; DNA Classes; Family History Day for Homeschoolers; Using Technology in Family History; Beginning Classes & One-on-One Consultations; Midnight Madness: Extended Research Hours on October 28; and Workshops featuring Jessica Trotter and Juliana Szucs on October 13 & 22. To register for these programs, please call (260) 421–1225 or email [email protected]"
Our Japanese Sister
The Botanical Garden's Our Japanese Sister exhibit runs through November 13, 2016. Celebrating Fort Wayne's sister city of Takoaka, Japan.  As the Garden says, "We honor our friendly relations with our Japanese Sister in this lovely garden with a distinctly Japanese flavor."
Embassy Theater
The Historic Embassy Theater has a plethora of musical events ranging from Mummies to Bugs Bunny to Johnny Mathis.
Embassy.
Fantasticon
And check out Fort Wayne's New Comic Con at the Grand Wayne Center. Fantasticon, "The Ultimate Comic Book and Pop Culture Experience" is Saturday, October 29 – 10am-6pm and Sunday, October 30 – 10am – 5pm.
Halloween
Fort Wayne's Trick or Treat hours will be from 5-7pm on Monday, October 31st. Make sure porch lights are on indicating that trick-or-treaters are welcome!